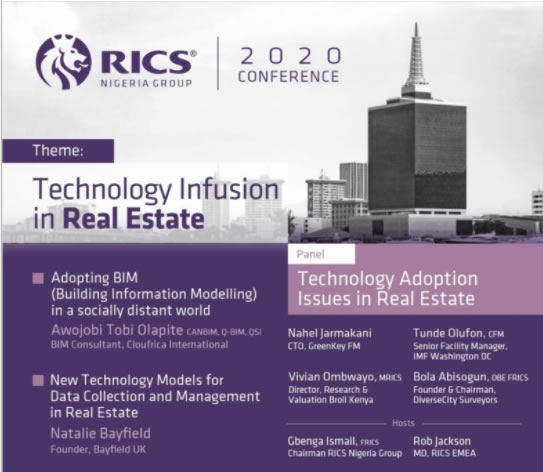 The RICS Nigeria conference held on the 5th of November 2020 was a success. The topic of this year's conference was, "Technology Infusion in Real Estate." According to the Chairman of RICS Nigeria Group and also the Principal Partner of Ismail and Partners, Gbenga Ismail (FRIC), last year's topic was on, "Unraveling the Real Estate sector", however, he said that because of the impact of technology around the world, this inspired thought of bringing together experts in the real estate sector to discuss on the topic of this year's conference. Different topics around technology were elaborated.
The first topic was on, "New Technology Model for Data Collection and Management in Real Estate" which was handled by Natalie Bayfield, Founder, Bayfield UK.
She started with a quote that says, "There is more data in the world than ever before  -but your data is disappearing". She also said that Data and Technology are fundamentally linked.
Furthermore, she talked about the report on the global trend in data capture and management in real estate, which highlights the top six challenges faced;
Storage
Reporting
Availability
Collection
Accessibility
Quality
The question she posed is, What Data do you collect? Why are you collecting data? According to Natalie, this is important as Data only means something when it is interpreted. She concluded by stating the ways companies can be Data smart which are;
Hire Data educated people.
Hire a Mathematician.
Conduct Data Audit.
Educate workers on technology, coding, and statistics.
Secondly, MD, RICS EMEA, Bob Jackson was called to make his input in the discussion and some of the things he said was, one of the major roles of RICS is to have buildings to be green, sustainable and produce Data Standards so that the right data is being captured, presented in a consistent way and embedded in an international standard.
Furthermore, he said that the infusion of technology is only going to accelerate at an exponential rate in the real estate sector therefore the Real Estate professionals need to get prepared and embrace the technology.
Finally, he said that the role of the city in the new world-built environment should have the following characteristics: It should be
Indexed
Quantifying
Objectively defining
Inclusive in social cohesion
Investible
Buildable
Green
Ethically Sustainable
Thirdly, Awojobi Tobi Olapite (CANBIM, Q-BIM, QSI), BIM Consultant, Cloufrica International discussed the topic on "Adopting BIM in a Socially distant World".
Tobi started by answering the question, what is BIM?
BIM- Building Information Modelling is the process of delivering and operating built access using well-structured digital information that all the necessary parties have access to.
BIM process requires all parties to collaborate and share the information they create in a mutually accessible online space known as Common Data Environment (CDE). This way, everyone who needs to access the information can. The collection of the Data is known as an "Information Model". Information Model can be used to inform all stages of a built asset's life cycle.
He said that people who need access to this information are;
Engineers
Architects
Quantity Surveyors
Clients
Furthermore, he said that BIM can only take place if;
There is a process for all stakeholders to have access to the information on the building project.
There is an accurate collaboration between stakeholders.
The stakeholders can share their information. (Information can be graphical and non-graphical)
He also explained that BIM is not just a software but a process that requires a different way of thinking and a new approach to project procurement and delivery.
In addition, he quoted Richard Saxon which says, "CAD helps people to draw but BIM helps people to construct". This made him stress on Pete Zyslaswaki, Cadalysis quote that says;
"BIM is not CAD, CAD is a replacement for pen and paper, a documentation tool. BIM programs are design applications in which documentation flows from and is a derivative of processes from Schematic design to construction to facility management." He also quoted CPIC which says, "Drawing is Dead. Long live modeling."
Consequently, Tobi Listed the advantages of BIM which are;
With BIM cost of error is reduced because there is transparency on the number of materials to be used.
There is access to all information at anytime
Lower project risk
He also stated the challenges of BIM which are;
BIM software is too expensive
Not enough demand from clients.
Finally, he ended his discussion on ways BIM can be adopted in a socially distant world which are;
Get certified as a BIM specialist.
Run a pilot project.
While giving advice to clients, introduce digital twin technology, BIM.
Create a publicly owned digital twin of buildings and infrastructures.
Lastly, a discussion was made on "Technology Adopting Issues in Real Estate". This was led by 4 experts in the Real estate industry which are
Vivian Ombwayo (MIRCS), Director, Research & Valuation Broll Kenya.
Tunde Olufon (CFM), Senior Facility Manager, IMF Washington DC
Bola Abisogun (OBE FRICS), Founder & Chairman, DiverseCity Surveyors
Nahel Jarmakani, CTO, GreenKey FM
The excerpts where;
Vivian's view;
Lack of awareness of the technology and quality of Data.
This technology needs to be in the university curriculum, not the Real estate professionals meeting them in the work field.
Tunde's view;
Cost of technology
Informing and advising clients on available technology.
Bola's view;
Real estate professionals need to unlearn and relearn their craft to be able to educate investors and clients.
Every building asset should have a digital black box.
Nahel's view;
Property Tech is the next big thing, Real estate professionals need to be Tech evangelist, not just clients but also the working team of the company.
Finally, the question was posed on how they are currently adapting technology in real estate.
Vivian said the following ways are;
Virtual viewing of properties.
Data Analysis, storage, and collection.
Use of Property management and Facility management software.
Tunde said the following ways are;
Use of IWMS which is for the organization of resources.
Use of CMMS software.
Use of Asset Management software.
This brought to the end of the discussion and the RICS Nigeria Group members went for their AGM immediately after the conference. For inquiry, you can mail us at enquiries@ismailandpartners.com or share your thoughts in the comment box below.
Leave a comment